Thermal image cameras detect the difference of hot and cold which can be used to show air leaks, insulation issues and sometimes water leaks that the naked eye cannot see.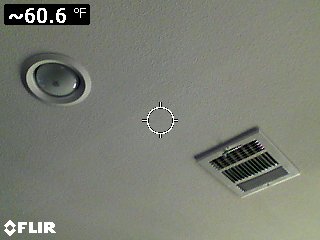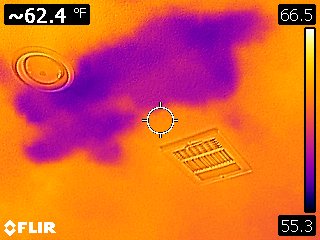 Thermal imaging shows water leak from the bathroom above
What is Thermal Imaging?
A Thermal imaging camera is another tool a home inspector uses to give the buyer a more complete understanding of the condition a house is in at the time of purchase. Thermal image cameras shows the difference between hot and cold. This can sometimes be used to find water leaks, that and a moisture meter to confirm a water leak or that saturation is present. It can defiantly show air leaks around doors and windows and electrical outlets. Some temperature variances are common and not a serious condition. For example an outside wall may show a cold line along the length of an inside room base board. If the house has a brick veneer this will be normal as there are weep holes at the bottom of a brick veneer wall purposely installed to give air circulation behind the brick. This also lets the temperature of the outdoors affect the base board temperature on the indoors.
Thermal imaging will also show missing voids of insulation in the wall. This is more important to find in new construction homes. Older homes may have thin or deteriorated insulation that will show a deficiency, which may be normal depending on the age of the house. Choosing to or not to add thermal imaging is a personal choice.
At Third Coast home Inspection, we want to offer the buyer all the tools available to give them the most complete picture of the total condition the home is in at the time of purchase.
Move the slider to see how thermal imaging reveals deficiencies otherwise missed by a visual inspection.